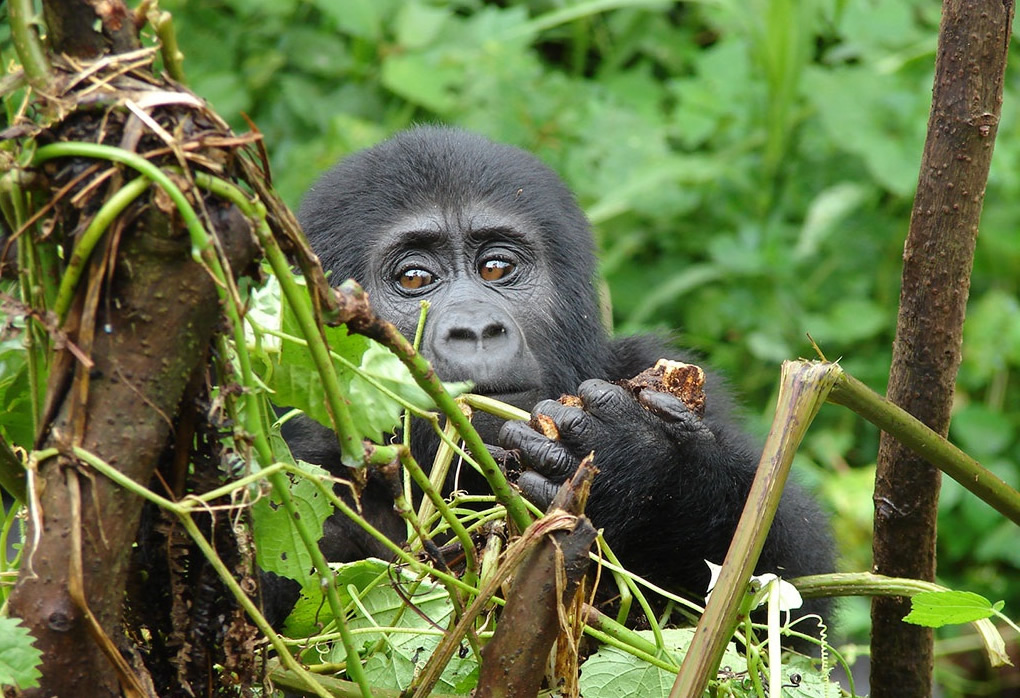 A combination of primate watching and white water rafting experience in Uganda gives you an opportunity to see the rare remaining endangered mountain gorilla in the wild. A tour to see these primates enables you to get up-close personal with the last rare mountain gorillas in their natural habitat.  The Uganda safari will also take you Jinja popularly known for being the source of Nile, the longest River in the world for the magnificent white water rafting. You will also get a chance to enjoy Jinja activities including Bungee Jumping, visit the Mabira forest, Sezibwa Falls, and visit the source of the River Nile.
Day one starts with a pick up either at Entebbe international airport or at you place of stay by your safari driver/ guide who will transfer you to Bwindi impenetrable National Park located south west of Uganda home to half of the world's remaining endangered mountain gorillas. Bwindi was gazetted as a national park in 1991 and declared a UNESCO World Heritage Site in 1994. More famously, this impenetrable forest which protects an estimated 480 mountain gorillas roughly half of the world's population, including the several habituated groups which can be tracked.
You will set off foe an 8-9 hour drive to Bwindi Impenetrable National Park with a stopover at the Equator where you have an opportunity to stand in 2 hemispheres at the same time and take photos. You will continue to Mbarara and make another stopover at Agip Motel for lunch en-route before continuing with your journey to Bwindi arriving in the evening. Dinner and overstay at Ruhija Gorilla Friends Camp.
Day two takes you for your gorilla trekking safari. Rise up early and take heavy breakfast and then move to the park offices to join other trackers in a short briefing about gorilla trekking rules. After the briefing session your ranger guide will lead you into the forest in search for mountain gorillas. You will trek through thick creepers and undergrowth with your guides to find the gorillas which can take anything from 2-8 hours'. The biological diverse region also provides shelter to a further 120 mammals, including several primate species such as baboons and chimpanzee as well as elephants and antelopes. In Bwindi forest there around 350 species of birds hosted in this forest, including 23 Albertine Rift endemics. While trekking the gorillas you come across some animals and birds.
Once you come across the gorillas, you will have one hour to stay with them and take amazing photos and videos of them. This is such a thrilling experience to look in the eyes of a silver back gorilla and its family. After the gorilla trekking adventure, transfer to Lake Bunyonyi. The drive will be through a beautiful part of the country often referred to as "the Switzerland of Africa". Lake Bunyonyi is the deepest lake in Uganda and second deepest in Africa and it is safe for swimming because it is bilharzia free. Dinner and overnight stay at Lake Bunyonyi Overland Camp
Day three, wake early morning and have your breakfast, after transfer back to Kampala with lunch en-route, then proceed to your hotel in Kampala for your dinner and overstay.
Day four early in the morning, you will be picked up at your hotel by your safari guide who will drive you to Jinja for your magical Uganda adventure experience. The journey en-routes to Mabira forest the tropical rain forest in central Uganda, tea and sugarcane plantation plus several roadside markets arriving at Adrift Uganda in time for your full or half day white water rafting adventure on the Nile. Enjoy the thrilling white water rafting at different grade stages starting from morning. The white water rafting beings at the source of the Nile with a comprehensive briefing and fitting of life jackets and helmets, the rafting is done on an 18 kilometre stretch of the River Nile.
The first and second rapids are low grade and give you a sense of confidence. Rafting on the Nile begins slowly as the river meanders through beautiful scenery; the rafts are guided into the mighty challenging of the best grade 5 rapids on the Nile. Eight major rapids are rafted and low graded runs to maximize the adrenaline rush of this adventure.
After passing through the rapids of Itanda falls, lunch is served while staged aside the waters. After the leisurely lunch on Itanda falls, you again enter the wild waters reserve which is a private conservation initiative started by Adrift Uganda to protect the unique flora and fauna of the mid-stream islands of the River Nile. You cannot afford to miss the rafting adventure experience even if you have less time at your disposal; the shorter trip finishes on the river experience even if you have less time at your disposal, and the shorter trip finishes on the river after lunch at Itandi falls, then after you can return to Kampala.