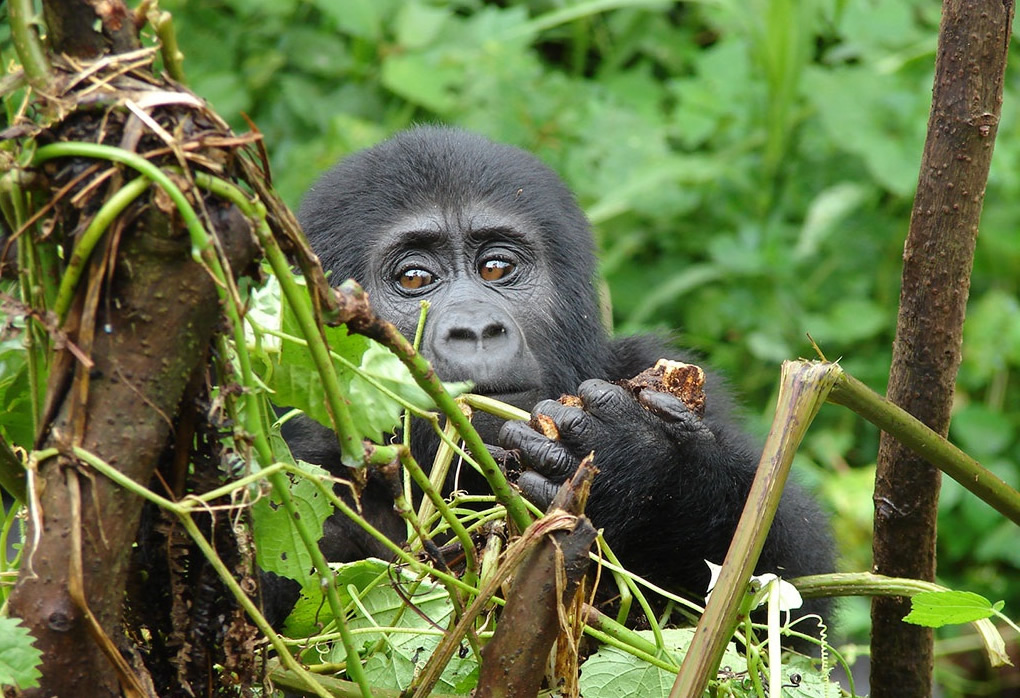 Bespoke gorilla trekking safari experience is a spontaneous activity you should not miss while in Uganda on your life time wildlife safari where you have a closely related contact with the Shy endangered mountain gorillas in the mist.
Uganda is one of the top destinations to visit and be left rewarded with an amazing gorilla trekking excursion at hand since it is rated to be hosting almost half of the world's gorilla population strategically found in its two major destinations.
When it comes to location Uganda is located in Eastern part of the African Continent bordering Kenya in the East, South Sudan in the North, Democratic Republic of Congo in the West, Rwanda and Tanzania in the South.
As far as attraction Uganda is reach in wildlife which include mountain gorillas the mostly wanted, chimpanzees, golden monkeys, African Big Fives, giraffe, zebras, kobs, elands, bush babies, black and white colobus monkeys, vervets found in its top ten national parks, culture and adventure sites, this is the reason why it's called the "Pearl of Africa".
Where to go for Mountain Gorillas in Uganda?
These great apes in Uganda are only found in its two major National parks named Bwindi Impenetrable Forest National Park and Mgahinga Gorilla National park with Bwindi hosting the most part of Uganda's gorilla population with over thirteen habituated gorilla families for trekking which are grouped in four sectors named Ruhija, Rushaga, Buhoma and Nkuringo sector with each sector having more than two gorilla families apart from Nkuringo which has only one gorilla family.
Mgahinga Gorilla National Park only has one habituated gorilla family for trekking named Nyakagezi gorilla family and it's characterized with both rain forest and bamboo forest where golden monkeys are residents. These two National parks are both found in the western part of Uganda with Mgahinga Gorilla National Park being inclusive of the Virunga Massif with Volcanoes National Park of Rwanda, Virunga National Park of Democratic republic of Congo.
What is the price for gorilla permits in Uganda?
Trekking mountain gorillas in Uganda you must buy a permit which issues you permission and it costs $700 USD per person which is paid in advance to cater for your booking in advance before your trekking dates, this money mostly once paid its non-refundable unless a clear reason is presented to the responsible authorities in time.
If you choose to do gorilla habituation experience in Uganda which is only done in Bwindi Impenetrable Forest National Park at the Rushaga sector to one gorilla family (Bikingi) the permit for it costs $1500 USD per person and stay four hours or full day in the jungle with these apes.
What's the best time to go for Gorilla trekking in Uganda?
Before your trekking activity you must first research about the best trekking seasons and choose the best dates for your excursion, mostly best trekking seasons are those with limited rain fall as mostly rainy seasons tend to interfere with the activity while in the jungle.
Almost all months of the year are suitable for gorilla trekking tours in Uganda except three months named April, May and November which are characterized with huge rain fall drops.
What to bring and wear on your gorilla trekking?
For better excursion of gorilla trekking in Uganda you must come well prepared for it, you should come with good and strong hiking shoes which cannot easily be penetrated by hooks and thorns, trousers and long-sleeved shirts are a must, insect repellents to protect you from biting insects like tsetse flies, sun glasses and huts to protect you from sunshine plus Water proof jackets to protect you from water in case rain fall finds you in the jungle.
It's always advised to move into the jungle for gorillas with your well packed food for lunch as sometimes it takes long to find location of these apes which leads to long distance movements therefore when you take long without eating you may get exhausted in the jungle.