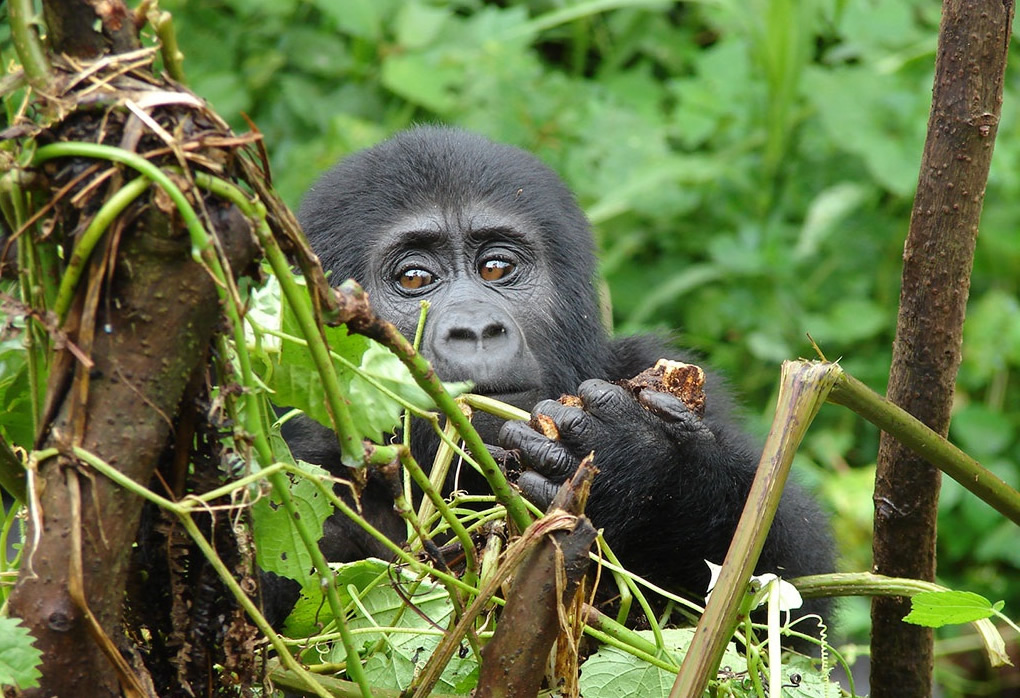 Since Volcanoes National Park is located few kilometers from Kigali yet it is the only haven for Mountain gorillas in Rwanda, the tracking of gorillas will favor the visit of the cultural sites which are also found in Kigali. Volcanoes National Park is only a two and half hour drive from Kigali therefore you will be able to visit the cultural sites in Kigali whereby you will come to interact with the local Rwandese and you will really enjoy their life styles.
The experiential gorilla safaris in Rwanda are so inspirational especially to the tourists who come from abroad in different countries like UK because there are direct flights which fly direct to Rwanda unlike in other countries which inhabit the endangered Mountain gorillas thus inspiring many gorilla trekkers to make it to Rwanda since they fly comfortably and as well reach comfortably without break ups from other countries' airports.
From Kigali international airport (Rwanda's airport), good tarmac roads link you direct to Volcanoes national park. Rwanda is made up of clean and tarmac roads in Kigali city and most of other parts in the country including those in its Parks hence inspiring many tourists to go for safaris in Rwanda including a visit to the rare endangered Mountain gorillas in Volcanoes national park.
All activities in the park are guided by the well trained and professional park rangers who will help you in tracking and help you grab the best experience ever. Good accommodations in Volcanoes National Park is another exceptional thing when you visit the park simply because the park is made up of good and luxury lodges and exclusive camps such Virunga Lodge, One and Only Mountain Gorillas Nest Lodge, Sabyinyo Silver Back Lodge, Hotel Muhabura, Five Volcanoes Boutique Hotel, Singita Kwitonda Lodge among others of which in these lodges there is a restaurant, a bar and a swimming pool which refreshes your minds for other activities.
Awe – inspiring Gorilla trekking tours in Volcanoes National Park will not take too long to find the gorillas since the Park's forest is not too thick as compared to other gorilla protecting Parks thus making tracking to be somehow easy and not tiresome as such. Still gorilla tracking in Volcanoes is such awe-inspiring since you will not only see the Mountain gorillas but also you will have a sight to almost 200 bird species, five volcanoes (Karisimbi, Bisoke, Muhabura, Gahinga and Sabyinyo) of which you can enjoy the hiking activity still in the Park's volcano of your choice however the Karisimbi is the most ideal one and it is a two days hike.
You will also enjoy a sight to a variety of wildlife and bird life species. You will also be able see the caves in the park plus an American naturalist's (Dian Fossey) tomb, she had gone to Rwanda basically to conserve the lives of Mountain gorillas and fight against poaching of Mountain gorillas in late 1960s but was later murdered by un known assaults. She was buried in the Park near her research center (Karisoke research center) she had formed to conserve the lives of the Mountain gorillas.
Rwanda's gorilla permits are sold at a price of US$ 1500 however if you are to visit another park or all the three parks in Rwanda, a gorilla permit will be discounted for you and you will only need to pay US$ 1050 and enjoy all the activities in the park during low season from November to May. Visiting Rwanda's is absolutely the best due to the offers which are given when buying the gorilla permits because you will also be given a discount on your gorilla permit if you are to have any conference held in Rwanda and you use that opportunity to book for a gorilla safari to Rwanda, you will be given a discount and you will only be asked to pay US$ 1275 regardless of how many Parks you are to visit.
There are good tour companies which you can use for the bookings and will as well buy for you the gorilla permit when you are still in your homeland and on your arrival after clearing the debts for your tour you will just go for the tracking in Volcanoes national park without looking for vehicles to use or buying a gorilla permit. One of the top tour companies include the ''Eco Tours Rwanda'' which will do all your bookings and also hire you any vehicle of your desire whether luxury or not but all in the best condition for your tour.
After all the activities in Volcanoes National Park, Lake Kivu is too close to the Park thus you can go there for a holiday and enjoy many things from there such as boat cruises on the Lake and through the boat cruises you will get a chance to see crocodiles, hippos and a variety of aquatic bird life. You will also enjoy the extraction of methane from Lake Kivu plus fishing where you will come to notice the fish species caught from the Lake such as tilapia among others.
Cultural safaris
On your way back from the Volcanoes national park, you will enjoy a visit to various cultural sites. Cultural safaris in Rwanda are very exceptional and it is one of the best things that clarifies the lifetime experiences of Rwanda's safaris in that the enjoyment got from there is sometimes compared to that of gorilla tracking by some tourists/gorilla trekkers.
Rwanda's culture consists of poems, songs, dances, interacting with local people, brewering local beers, preparing local foods and living a local traditional life. In order to enhance cultural safaris in Rwanda, many cultural sites have been put in place all over different parts of Rwanda and interestingly, visitors are allowed to access those cultural sites and also get involved in various events like traditional dances, dressing codes which make tourists to fit in the society. Still at every cultural site there are various artifacts, maps, videos and books which provide tourists with extensive knowledge. Cultural safaris plus a visit to Volcanoes national park will make your package a complete one and some of the must visit cultural sites include; National arts museum Rwesero, The king's place, Ndaba rock, Nyamata church, Bugesera reconciliation center, IbyI'wacu cultural village and the Genocide memorial site plus the Aziz life experience.